The VOA Hausa (www.voa hausa.com)
Muryar Amurka (Voice of America)
Hausa Service Radio News
---

The voice of america (VOA) Hausa or VOA Hausa (www.voa hausa com) muryar amurka service news hausa radio is a website of International news across all subjects.
Every day VOA's Africa division broadcast for you international and regional news in English and eleven other languages, which includes hausa language.

VOA has correspondents in Abidjan, Cairo, Johannesburg, Nigeria hausa news and Nairobi, as well as a network of over one hundred journalism throughout the continent.

It has a clear signals and very easy to access when compare to BBC Hausa. It broadcasts on AM (Attitude Modulation).
Voa Hausa News
The voa hausa news or Voice of America (VOA) Hausa Service broadcasts for two hours per day on Short Wave at the following local hausa news times:
06.00 - 06.30

08.00 - 08.30

16.00 - 16.30

21.30 - 22.00

For voa hausa service, check your local listings for times or look on VOA News website www.VOANews.com/TVToAfrica for stations in your area.
DAILY - Africa News Now - Top news stories from Africa and around the world


MONDAY-FRIDAY - Daybreak Africa - Get your day off to a fresh start with the Daybreak team as they present news, interviews, sports and live weather forecasts.


FOCUS - Commentators provide thought provoking analysis to clarify complex issues in the news as well as historical and cultural topics.


Africa World Tonight - Kim Lewis hosts this evening program bringing you the latest news, sports and music developments in Africa, the United States (US) and around the world.


Opinion Roundup - U.S. and world media opinion, expert discussion and VOA listener letters.


Talk to America - An international call-in program broadcast live on radio and the Internet. Host Doug Bernard engages the world wide audience in a daily dialogue with a variety of American decision-makers, personalities and experts on far ranging subjects. Call collect to join the discussion - 1-202-619-3111.


Talk to America Africa-New! - Host Doug Bernard and the Africa Division's Shaka Ssali or Vincent Makori, as well as other Africa Division personalities, discuss African and world issues with international callers in a recorded version of the weekday program.


World of Music - Join Rita Rochelle for the world's best music and guest interviews, including artists from the African Diaspora.


Music Mix - Enjoy a variety of American and international music, as well as up-to-date music industry news and live performances. See program clock for specific kinds of music on each day.


MONDAY ~ New American Voices - Hear the stories of immigrants living and making new lives in the United States.


TUESDAY ~ Global College Forum-New! - Each week, host Marsha James speaks with students from around the world who are studying in the United States.

Housecall Chinedu Offor hosts this live call-in health program that puts listeners directly in touch with medical professionals.


WEDNESDAY ~ Wordmaster - VOA's Avi Arditti brings you the fascinating stories of words and phrases found in today's English language.

Straight Talk Africa - This call-in program examines topics of special interest to Africans, including politics, health, social issues and conflict resolution. Shaka Ssali hosts this program, which is broadcast on radio, television and the web.


THURSDAY ~ International Press Club-New! - Judith Latham talks with editors of English-language newspapers around the world as they discuss major topics of global importance.


FRIDAY ~ Sonny Side of Sports-New! - VOA's Sonny Young opens the phone lines for his listeners to call in with questions and comments on the African sports scene and an occasional interview with African sports stars. Call collect 1-202-619-2077.

Hollywood Highlights-New! - Alan Silverman brings you a weekly look at the American movie industry from Hollywood.


SATURDAY & SUNDAY ~ Point of View - This weekend program looks at an important issue of the day, from both sides, with Marsha James and Yeheyes Wuhib.
hausa.voa.mobi
Its true that you can get your voa hausa news via your smart mobile phone or
hausa.voa.mobi/ hausa.voa mobile or hausa.voa mobi/ voa hausa.com/mobile/ voa hausa mobile websites
. VOA news are from the American angle and does give a US propaganda, only partially objective.
Voice of America VOA which broadcast or airs its news at
6
am. VOA tell you this is an editorial hausa news, they'll tell you this is their opinion so that you don't have a problem.
Voa news hausa
or
VOA programmes
are also relayed on FM in Niamey, Maradi and Zinder through partnerships with
Radio
Tenere,
Radio Anfani
and
Radio Sarraounia
.
Much of the Hausa service programme content is produced at studios at Abuja and Kano in Nigeria.
The VOA Hausa Service
has been broadcasting continuously since
1979
.
VOA Hausa.com
The aim of
VOA Hausa.com
(www.voa.hausa.com)
staff/ mp3/ live/ mobile/ facebook/ labarai/ shrin dare/ listen online/ audio
is to encourage unity amongst hausa speaking people via its website
voa hausa.com
news radio service.
The
voa hausa labarai
or
hausa voa
first went on the air in
1942
, is an international multimedia broadcasting service funded by the United States of American government through the Broadcasting Board of Governors.
Voice of America hausa
(or
voa hausa online
) broadcasts to approximately
1500
hours of news, information, educational and cultural programming every week to an estimated worldwide audience of
125
million people.
There is a new expanded programming
voa hausa radio
includes five hours of
morning broadcasting
and six hours of
evening broadcasting
which can be heard throughout Africa on shortwave frequencies
15240
and
13710
kHz, and on
24/7
FM stations in
Sierra Leone
(
102.4
FM),
Kenya
(
107.5
FM) and
Ghana
.
For more information, please visit voanews website at:
www.VOANews.com/EnglishtoAfrica
Voahausa or Voa Hausa Radio
Voahausa
(
voa hausa radio
) - Listening to Voice of America was more widespread.
Hausa VOA
listeners are generally seemed to accept that the broadcast was the point of view of America and that it helped them to build an all round understanding of issues. It's like voa are trying to sell America.
Don karin bayani, ku duba shafinmu ahanyar "
Duniyar Gizo
" ta komputa awannan adereshi:
www.VOAHausa.com kokuma
www.sashenhausa.com
. For more information, find voahausa on the web at
www.VOAhausa.com
and
www.sashenhausa.com
LITININ

Noma Tushen Arziki 0500 Coordinated Universal Time (UTC)
Ilmi Garkuwar Dan Adam 1500 UTC



TALATA

Gani Ya Kori Ji 0500 UTC
Kimiyya da Fasaha 1500 UTC



LARABA

Sharhin Jaridun Amurka 0500 UTC
Mu Kewaya Duniya 1500 UTC



ALHAMIS
JUMU'A

Lafiya Uwar Jiki 0500 UTC
Addini A Amurka 1500 UTC
Sai Bango Ya Tsage 2030 UTC



ASSABAR

A Bari Ya Huce 0500 UTC
Labaran Wassanni 1500 UTC
Karamin Sani Kukumi Ne 1800 UTC



LAHADI

Amsoshin Tambayoyinku 0500 UTC
Ra'ayoyin Masu Sauraro 0500 UTC
Hira da Baki 1500 UTC
Sakonmu Na Mako 1500 UTC


VOA Hausa Service
: Monday-Friday at
0500-0530
,
1500-1530
and
2030-2100
UTC, on Saturday at
0500-0530
, 1500-1530 and 1800-1830 UTC and Sunday at
0500-0530
and
1500-1530
UTC.
These half-hour news, information and entertainment programs include the following features:-
Monday: Agriculture 0500 UTC, Education 1500 UTC;
Tuesday: Immigrant Voices 0500 UTC, Science and Technology 1500 UTC;
Wednesday: U.S Editorial Digest 0500 UTC, Close-up 1500 UTC;
Thursday: For the Family 0500 UTC;
Friday: Health Magazine 0500 UTC, Religion in the U.S. 1500 UTC, Democracy Call-in Program 2030 UTC;
Saturday: Music Express 0500 UTC, Sports 1500 UTC, Youth Forum 1800 UTC; Sunday: Listeners' Questions and Listeners' Forum 0500 UTC, Guest of the Week and Message from Washington 1500 UTC
Voahausa.com
The
Voahausa.com
Muryar Amurka is the
Jaddawalin Shirye-shirye
. You can easily listen to daily VOAHausa broadcasts
Shirin Hantsi
/
Shirin Safe
/
Shirin Dare
/
Shirin Rana
to keep in touch with what's happening in the world in Hausa people and hausa language.
The Voahausa service is one of the most reliable source of current Hausa news service. Below is the
voa hausa service staff
photos .
Here are the
voa hausa staff pictures
photos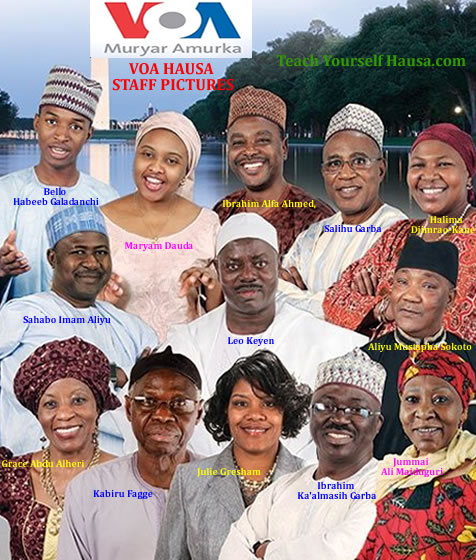 VOA Hausa staff:
Above from right;
Halima Djimrao-Kane
,
Salihu Garba, Ibrahim Alfa Ahmed,
Maryam Dauda and Bello Habeeb Galadanchi.

Middle from right: Aliyu Mustapha Sokoto, Leo Keyen and Sahabo Imam Aliyu.

Below from right: Jummai Ali Maiduguri, Ibrahim Ka'almasih Garba, Julie Gresham, Kabiru Fagge and Grace Abdu Alheri.

You can contact VOA HAusa Office at:

Phone: +1 202 203 4077,
Email: sashen-hausa@voanews.com,

Postal Address:

VOA Hausa, African Division
330, Independendence Avenue SW
Washington DC, 20237
United States of America