Hausa Music (Waka Da Kida Da Yin Su Algaita Duka) (Myuuzik)
---

Hausa music? Thinking of you listen hausa music or hausa songs? Or perhaps you would like to know or curious about what does Hausamusic sounds like?

In hausa language, music or songs is call "Waka da kida da yin su algaita duka".


Hausa Songs Hausa Music
Music of the Hausa people, are music of an ethnic group of 35–45 million people of Northern Nigeria, west Africa.

Hausa songs or music, influential of that region, falls into two types reflecting division of Hausa society:-
Rural folk and,
Urban court
The urban court comprising music for state ceremony and the most esteemed genre songs composed in praise of officials/ rulers/ leaders.

Court instruments includes:-
Kakaki trumpet (A three to four metre long metal trumpet used in Hausa traditional ceremonial music),





Algaita/ alghaita/ algayta/ or algheita (double reed wind instrument from West Africa, especially among the Kanuri and hausa peoples),





Timpani/kettledrum (a musical instruments in a large copper or brass hemispherical drum with a parchment head that can be tuned by adjusting the tension) and,





The Ganga and Talking drum - Nigerian Hausa musicians (Mai yin in hausa) performing at the court of the Amir of Zaria, Northern Nigeria

Rural music includes bowed and plucked lutes such as the goge, kuntigi and garaya as well as the kalanga hourglass drum.
Hausa praise songs appear in rural music too, although subjects are not restricted to leaders, and they may be ridiculed as well as praised.

There are a number of stories connected with the Hausa Music and Hausa people, who today live in the Western African countries of Northern Nigeria, parts of Ghana, Niger and Togo.

For example, stories that all the Hausas once lived by Lake Chad, but had to move west when the lake shrank.

However, storytelling via oral and musical traditions join kanem-bornu empire by Lake Chad with the Hausas.

In addition, not forgotten a shared Islamic history. The Hausa skill in horse riding is also thought to come from Kanem-Borno.
And finally the hausa music. The musicians of the court of the present Emir of Zazzau in Zaria State, Nigeria say their instruments came from Bornu.

For example, Hausa music Annabi is a song of praises for our beloved prophet (Peace is upon him) - Ya Kai Mai Ladabi, Mudurqusa mu Gaida Rasullulah!

Musician is in hausa is called Mai yinshi a ke kira. The best of Hausa music, for instance... Wakokin Asnanic, Nura m Inuwa and Bilio.


Hausa Songs
Some hausa people belonging to the Bori cult... which means... a small group of people that mixed Islam with traditional cult beliefs).

They tend to sing deep northern Hausa traditional praise songs. As the Hausa are mainly Muslim peoples... their praises usually starts off with Allah and the Prophet Muhammad.

Subsequently, patrons are from among the audience then may literally "shower" money gifts upon the Maka'da - Griot praise singers and in return get their praises hausa song.

The amount of money depends on the amount of praise, and commonly whole songs are dedicated to patrons who had given largest gift of money. This tends to be by Emirs, Sheiks, Politicians, Traditional Chiefs (Sarki or Shugaba) or Mu'allams (Mallan).


Hausa Musicians Praise Singing
Hausa music praise singing is one of the oldest genres of Hausa song music in the world and has a long recorded history in parts of Africa and Asia.

Some hausamusic stories identifies the Hausas as originally desert people, living in the Sahara. The connection goes even further north; the palace at Daura contains a sword, which people believe, came from the Pharaohs.

Hausa music pictures including Hausa traditional festivals of Dambe (traditional hausa) boxing, Argungu fishing, Durbar and Hawan Sallah.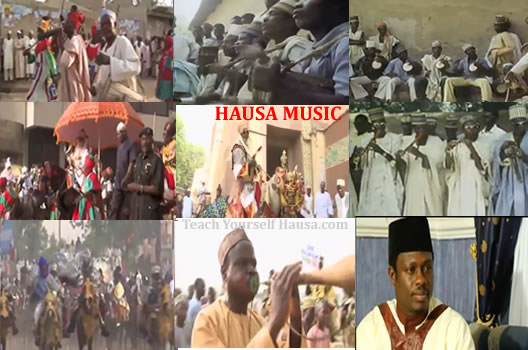 Most People's Favourite Hausa Songs
Here is a couple of most people's favourite Hausa songs Music/ Radio/ Actress/ Free/ MP3/ Downloand/ Videos for you to check out at google video sharing website Youtube.com


Any interest in the Rariya Hausa newspaper or DW Hausa rikicin boko haram?