Table Of Contents
Last Updated

Hausa Location in Nigeria
---


Do you want to know where Hausa and Fulani people location in Northern Nigeria is? The map below shows you where in Nigeria hausa, igbo and yoruba are located.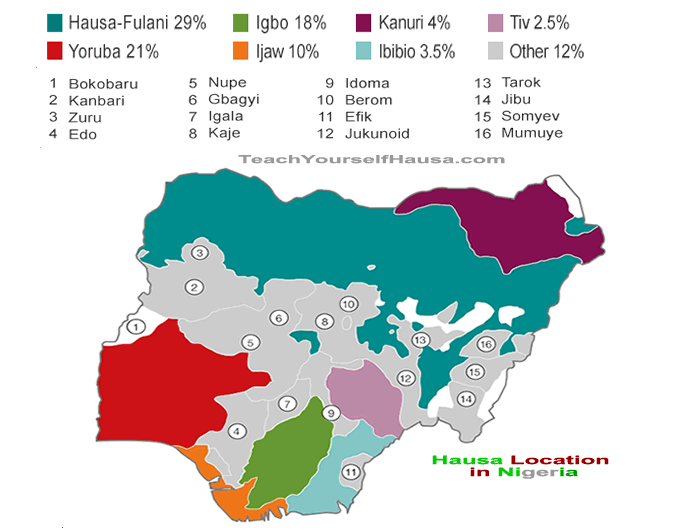 Hausa is widely spoken as a first or second language in northern Nigeria and in large cities elsewhere in Nigeria, in southern Niger, in parts of Ghana, and in the Blue Nile area of the Sudan.
The percentage of population of major ethnic diversity groups in Nigeria as of the year 2015 consists of Hausa-Fulani
29%
, Yoruba
21%
, Igbo
18%
, Ijaw
10%
, Kanuri
4%
, Ibibio
3.5%
, Tiv
2.5%
and Others
12%
according to source: Ulrich Lamm.
The Hausa-Fulani people, based in the north are mostly Muslims.
The Yorubas of the south-west are split between Muslims and Christians and the Igbos of the south-east and neighbouring groups are mostly Christian or animist.
Most Boko Haram fighters are ethnic Kanuris. Abubakar Shekau is the leader of the militant Islamist group Boko Haram, which has carried out a series of deadly attacks across northern Nigeria.
Nigeria Hausa Igbo Yoruba
Hausa and Fulani people in Nigerian People and Culture as well as nigeria hausa gospel music.
Click here to see
List of Ethnic Groups in Nigeria
including their states.